Using the right dentures can be a huge benefit to your quality of life and there's no need to suffer with loose, bulky plastic dentures or unsightly metal clips. At Dental Healthcare Practice, we can provide you with exceptional dentures that are specifically tailored to your exact requirements for the perfect fit.
Using the very latest technology and self-gripping ultra-thin materials, combined with our vast experience, we will ensure you are happy with the final result. We're passionate about making sure you have dentures that are right for you and you alone for absolute comfort and a confident smile.
Whether it be strength, comfort, grip or appearance, the type of dentures you need will depend on several factors. Following a thorough examination of your mouth, we can design and develop dentures that are not only comfortable to wear but are designed to fit your precise requirements. We are here to provide you with a first-class dental experience right from the initial examination to fitting your dentures and aftercare.
Who we are?
With more than two decades' worth of experience to his name, Dr Mark Setters BDS has carried out over 1,000 cosmetic dentures in patients.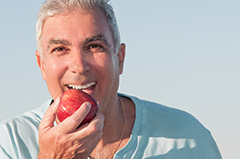 He has always held an interest in treating both simple and complex denture cases, full or partial, and even takes on clients where other dentists have proved unsuccessful. He and his team welcome emergency denture appointments as well, so if you're currently struggling with a dental issue around the Horsham area, don't hesitate to get in touch today.
What are the best dentures?
Dentures can be made from a variety of different materials and in a range of designs, so they can be fully customised to each patient. While this wide range of choice is naturally an advantage, it can be a little confusing knowing which type of denture is right for you. But there's no need to worry about choosing the wrong style – we have the expertise required to walk you through the options available to help you make the right choice.
We are happy to go through any questions or queries you might have, so you feel comfortable with the decision you are making.
Why choose us?
Dental Healthcare Practice only use the best technicians available in the UK. Since we are not 'tied' to a lab, we have the luxury of hand-picking the best technicians – depending on the type of denture needed. This leaves our patients feeling happy and confident with the level of service they receive, as you can see in the testimonial below:
"For the first time in years I can eat and chew whatever I want." – Patient Testimonial
To read more of our client testimonials, please visit here.
What we offer?
To arrange a denture treatment plan with us, please feel free to contact a member of our team to set up an initial consultation appointment. We provide full and partial dentures and use modern technologies to make dentures comparable to your own natural teeth.
Some of the technological procedures we offer include:
Invisible clasps on anchor teeth
Self-gripping dentures
Magnetic gripping dentures
Depending on the design and material used, your dentures can take between one and eight weeks to produce. You'll have full control over the tooth shape and shade you'd like, to help them blend with your natural teeth, so you can personalise the appearance to suit you. We also ensure you have the final decision before they are put into production.
Your next steps
If you are looking for dentures that are right for you, call our team today to make an appointment. We will be ready and waiting to answer any questions or queries you may have. If you would like to find out more about our pricing information as well, please click here.