At Dental Healthcare Practice, we have more than 20 years' experience of teeth whitening procedures, including laser treatments. Fully trained in the safest and most effective procedures on the market, our treatments will ensure you get the results you are after.
Tooth whitening is now widely employed as one of the most effective ways to enhance the appearance of your teeth, provided you use a process that's suitable for you and your teeth.
Dr Mark Setters BDS has been carrying out teeth whitening procedures since they were first introduced in the UK in 1994. Highly experienced in traditional and cosmetic dentistry, including all the latest teeth whitening processes, he is committed to the highest quality service and the best standards of care. All our treatments come with a guarantee.
Teeth whitening treatments
Tooth whitening is a safe and effective way to lighten the natural colour of your teeth; it does not involve removing any of the tooth surface. There are several ways to carry out teeth whitening. These include treatments carried out at the dental surgery, and teeth whitening kits to be used at home.

At Dental Healthcare Practice, our dental practitioners have many years of experience with all types of teeth whitening procedures, including laser treatments. Why not pop in for a consultation and recommendation for the best treatment for you?
Home teeth whitening
Home teeth whitening treatments use a custom made lightweight plastic mouth tray or thin mouth guard that fits snugly over your teeth. You place a whitening gel inside the tray and, following our teeth whitening instructions exactly, wear the tray either for a few hours during the day or overnight.
The chemical tooth whitening agent will gently and gradually lighten your teeth safely and predictably. Results will start to become visible after 2 or 3 days. The desired result will be achieved after 1 – 2 weeks, with teeth appearing whiter and brighter.
It's a tried and tested system that we've used successfully for nearly 20 years.
Do please bear in mind that the gels available to buy over the counter do not have the required strength to predictably whiten your teeth.
Laser whitening or power whitening
For fast and effective results, you can have your teeth whitened while you're at the dental surgery. In-surgery teeth whitening at Dental Healthcare Practice uses a stronger concentration gel that is placed on the teeth by our dental practitioners for 45 minutes to give a quick start effect. A laser or other type of light is used to activate and speed up the whitening process.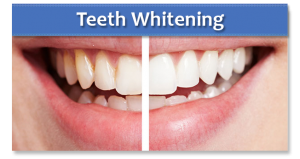 You can then carry on with the 'at home' system at your convenience.
Professional bleaching is the most common method used for tooth whitening. A dental consultation will enable us to advise if you are suitable for the treatment, and supervise your in-surgery procedure.
A protective rubber shield will be placed on your gums and lips before the whitening product is applied to your teeth. The active ingredient is typically hydrogen peroxide or carbamide peroxide. As the whitening agent is broken down, oxygen gets into the enamel on your teeth and lightens the colour.
How safe is tooth whitening?
Teeth whitening procedures are completely safe when carried out by a dentist in a professional dentist's practice setting. This ensures that the chemicals and procedures used are appropriate for your mouth. A thorough dental consultation and examination is the basis for successful and safe teeth whitening.
However, in the wrong hands, or used by untrained staff, tooth whitening could harm your teeth.
After teeth whitening treatment, some people may experience temporary sensitivity, particularly when consuming hot or cold food or drink. This usually disappears after 48 hours. If you do have problems with tooth sensitivity after treatment, we would advise you to wear the mouth tray for shorter periods, and switch to a toothpaste for sensitive teeth for the time being. In some cases, it's a good idea to stop the whitening process for a few days to allow your teeth to adapt.
There are certain circumstances under which our dentist may discourage teeth whitening. They include
Pregnancy or breast feeding;
Gum disease, worn enamel, cavities or especially sensitive teeth;
Tooth coloured crowns, veneers, implants or other dental work on your front teeth that will not respond to lightening treatment.
For further information about any of our dental services, or to book a consultation with Dental Healthcare Practice for teeth whitening in Horsham or Sussex, please contact us to arrange for an appointment.