At Dental Healthcare Practice, changing dentists or getting a dental second opinion in Sussex couldn't be easier. Just phone, email or come into the practice and we will book you an appointment, the rest is done by us.
It's not uncommon for people to change dentists for a variety of reasons. Many people also like to seek a second opinion when they are faced with difficult decisions about their dental care.
Whatever your reason for wanting to change dentists, Dental Healthcare Practice can guarantee a smooth transition and excellent dental care. We have a special interest in treating nervous patients, so we'll do everything to make your trip to the dentist as stress free as possible.
How to change dentists
There are many reasons you may be looking to change dentist. It may be you've just moved into the local Horsham area, or your dentist has retired or moved away, or even closed down. It may even be that you're not happy with your current dentist. Just give us a call, or pop in and see us, and we'll get you registered with us quickly and smoothly without any fuss.
If the thought of changing dentists makes you feel uneasy, feel free to visit us to get a sense of what our dentist surgery is like before you take the leap. Maddy or Lisa will be happy to explain anything to you.
Changing dentists to DHP
Changing dentists to Dental Health Practice couldn't be easier. When you book an examination the registration process is already done for you.
We can request xrays from your previous dentist if needed and make you an appointment to meet the dentist you'll be registered with here. You'll need an initial consultation to assess your current dental health and then we'll take it from there. Any treatment options and costs will be fully explained to you before you commit to treatment.
Our practice in Horsham is easily accessible. We offer free parking and disabled access. We also offer emergency dentist appointments in Sussex.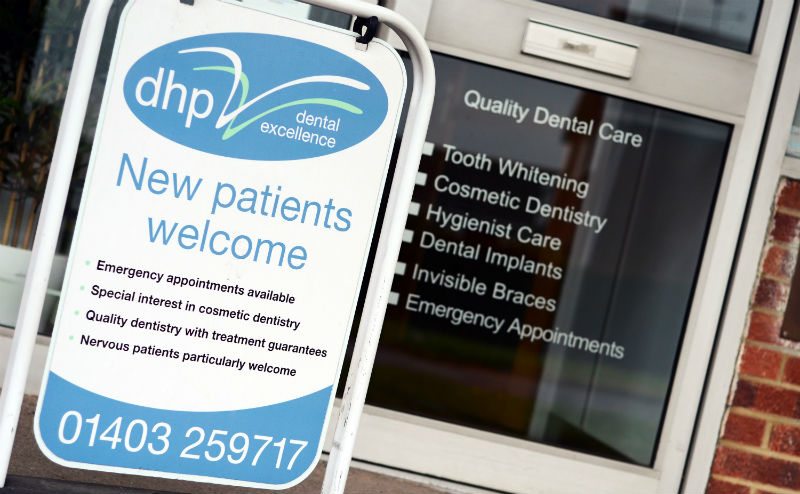 Dentist's second opinion Sussex
There may come a time when you receive advice regarding future dental treatment and you feel you would like a dentist's second opinion. Worrying about the advice you have been given and knowing where to go for a second opinion can be daunting. We understand how confusing conflicting advice can be, but we promise to give you our honest opinion based on many years of professional dentistry experience. We'll explain everything to you in easy to understand terms.
At Dental Healthcare Practice we work with the philosophy of preventative treatment to minimize the need for later treatments. We are experienced in dealing with the most complicated dental problems and we get consistently good results, not just the short term but long term as well.
Get in touch
Get in touch with us today on 01403 259717 and speak with our friendly team.