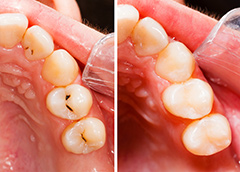 When your tooth decay has reached a point where a filling has to be done, we are able to use modern white dental filling materials to fill your teeth. By using the right material, we are able to provide you with a filling which gives maximum success and minimum cosmetic impact.
There is no single perfect filling material for all situations, but we have many years experience knowing exactly what materials work best in different situations and can advise which one would be best for you:
Composite white fillings are excellent at sealing and giving strength back to a weakened tooth.
Glass ionomer white fillings release flouride, and are good at reversing tooth decay.
Sometimes we use combinations of materials in one filling to get the perfect result.
Obviously, some patients are nervous about having fillings. There is no need to worry. As our existing patients will tell you, we can ensure you feel comfortable having your filling done as we allow enough time to carry out the procedure painlessly and comfortably.
Often we can avoid the need for fillings. Just because a tooth is decayed, it doesn't mean it has to be filled.
When we detect decay at an early stage, there are a number of techniques that we use to avoid the need for a filling. We can paint sealants and gels on the tooth, which can reverse the decay. We can also give you a personalised oral hygiene program, which has been shown to prevent and reverse tooth decay.