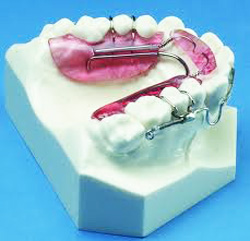 Are you unhappy with your smile because of protruding, overlapping or crooked teeth? At Dental Healthcare Practice in Horsham we offer the latest innovative teeth straightening treatments to help get you a perfectly straight smile safely and in the gentlest way possible.
If you are worried by the thought of 'metal train-track' braces, don't let that put you off. Our Inman Aligner and Clear Aligner systems are the most discreet teeth straightening devices on the market.
Children and adolescents aren't the only ones who wear braces. An increasing number of adults are now taking the decision to straighten their teeth. Want to know more about teeth straightening the easy way? Simply get in touch with our friendly team now for an appointment.
The Inman Aligner
The Inman Aligner is a cost-effective, safe and gentle solution for crowding or protrusion. The removable orthodontic appliance moves teeth in a fraction of the time compared to other teeth straightening systems. It works by providing gentle but continuous pressure and in most cases guides teeth into position in 4-16 weeks.
The speed of treatment and the fact that it is removable makes this a popular treatment choice for our clients.
"I can't believe how fast my teeth moved!" Patient Testimonial

Only certified Inman Aligner dentists can provide this teeth straightening treatment. Dr. Mark Setters at Dental Healthcare Practice has the required certification and provides Inman Aligners, here in Horsham, West Sussex.
"The Inman Aligner is the greatest innovation in dentistry of recent years. It's fast, affordable and kind to teeth. It really is the best way to straighten crowded front teeth." Patient Testimonial
The Clear Aligner System
Straightening teeth has never been so easy, comfortable or discreet. The Clear Aligner System is excellent at straightening out overlapping or crooked teeth and closing gaps between teeth without discomfort and in optimum time.
The smile align system is unmatched in its precision. Computer technology enables us to show you how the teeth will move and your finished smile in 3D before your treatment begins. We can even accurately predict how long the teeth straightening treatment will take. It means you will know from the outset how long it will take and exactly how your straight-talking smile will look before you decide if you would like to proceed.
There are a number of different clear aligner system, including Clearstep R, Invisalign R, and Smile Align R. With all of these aligner systems, teeth positions are corrected with a series of clear aligners. You normally wear each positioner for approximately two weeks. Little by little they gently move teeth into the desired position. Clear aligners are suitable for minor and moderate corrections.
The aligners are very comfortable and don't impact on speech. Importantly, they are removable so can be taken out for an important business meeting or a hot date!
If you're looking for teeth straightening treatments in Horsham or Sussex, our expert teeth straightening dentists can help. Click the 'book consultation' button below to get started. Straightening teeth has never been so affordable or so easy.
"After one week I forgot I was even wearing them (clear aligners)" Patient Testimonial
Subtle Treatments
Modern dentistry has given us a revolution in orthodontics, enabling people to improve the health and appearance of their teeth confidently, comfortably and discreetly. The clear, custom-made aligners, such as Invisalign, are invisible and removable, making them the least obtrusive teeth straightening treatment available today.
Come and see us to find out how we can help you achieve a smile you are happy with in the most discreet way. Whatever orthodontic treatment you require we can help.
Teeth Straightening FAQs
Are teeth straightening treatments safe?
Teeth straightening with one of our expert dentists is an extremely safe procedure. We'll explain everything to you at your first appointment to make sure you are 100% happy before proceeding with the treatment. You will be advised to take extra care brushing your teeth. If you do have fixed braces, it is more difficult to clean certain areas of your teeth. With our removable aligners, you can continue your dental hygiene routine as usual.
Will teeth straightening treatment hurt?
The Aligner systems we use are completely painless. Your aligner may feel slightly unusual at first, but the beauty of the aligner systems is their ability to move teeth gently and safely without causing any pain. If you do have any discomfort contact your dentist straight away for advice. Properly fitted aligners shouldn't cause you any problems.
Is teeth straightening treatment expensive?
Advancements in dentistry, such as the Aligner systems, are straightening teeth in record times. With the average treatment time taking just 4-16 weeks, the cost of treatment is relatively less than the lengthy fixed brace treatments of the past.
What are the benefits of the Aligner teeth straightening systems?
The Inman and Clear Aligner systems offer gentle, safe teeth straightening. They work surprisingly quickly and can straighten teeth in as little as 4 weeks in some cases. They are also a much more affordable option than more traditional teeth straightening options.
Why should I get my teeth straightened?
While many people decide to get their teeth straightened for cosmetic reasons, there are actually also some very good health reasons to consider correcting your teeth. When left untreated many minor problems can become worse and contribute to excessive wear on some of your teeth's surfaces. Correcting minor problems are much less costly now than the potentially more serious problems that can occur later down the line. An overbite or misalignment of teeth can cause inefficient chewing, gum stress, and even jaw problems and headaches.
Can all teeth straightening be achieved using the Aligner systems?
Most minor to moderate cases of misaligned or protruding teeth can be treated using either the Inman Aligner or the Clear Aligner System. However, some more severe cases will require another solution. Fixed braces today are a far cry from the very obvious metal braces of days gone by.
Fixed orthodontic braces today can be made in tooth coloured materials, making you feel less conscious about achieving the perfect smile. Lingual braces involve the brace appliance being placed on the inside of the teeth, which makes them almost invisible. Self-ligating braces eliminate the need for metal or elastic ties and requires less frequent adjustment. There are many options for teeth straightening and the best option for you will be determined by your dentist.